Real Autonomy for the micro Expedition / Overland camper around 3 – 4 tons has always been subject to considerable compromise. The available space & payload are limiting factors to allow a significant - weight distance - from technical limits. This in order to retain a minimum of off-road capabilities.
Over the past 5+ years there have been significant developments in electric autonomy benefiting the micro 4x4 Expedition / Overland camper in the super light weight class.
Previously unimaginable electric autonomy has now become a reality for the micro Expedition / Overland conversions.
This particularly from a viewpoint where the energy demand for Smartphones, Tablets, Laptops & Camera's has increased steeply.

GELL / AGM / Lead Acid batteries
In the past, a decent amount of electric autonomy came from 220Ah -12 Volt batteries easily weighing around 57+ Kg a piece. Not to mention the considerable size of these 220 Ah battery blocks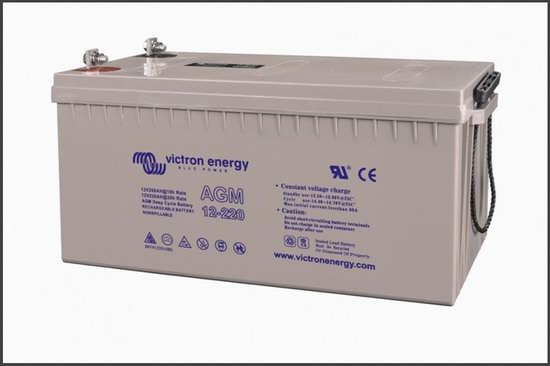 For a micro Expedition / Overland camper these batteries often were simply too heavy & too large. The real downside is the actual available electric capacity until the compressor fridge starts shutting down. The reality often is : without driving - after 100+ Ah of use - food & drinks are getting warm, unless there is a decent amount of sun, a landline or a generator available. In bad / cold weather the crew is forced to start driving even earlier to recharge the limited battery capacity.

Nowadays 2 developments have changed that significantly.

Solar panel capacity increase

First the available Solar Panel Capacity [Watt per m2] has increased significantly, pushing up the potential generating Ah [Amps hour] charge significantly. (efficiency) The surface of a 120 Watt solar panel from 20 years ago now easily has a rating of 200 Watts. (40% increase).
Secondly the price for a solar panel has also reduced dramatically over the past 20 years to approx. 1.30 EURO netto per Watt for a single high efficiency solar panel including surface mounts & cabling. (195 Watt Solar Panel / 255 EURO netto)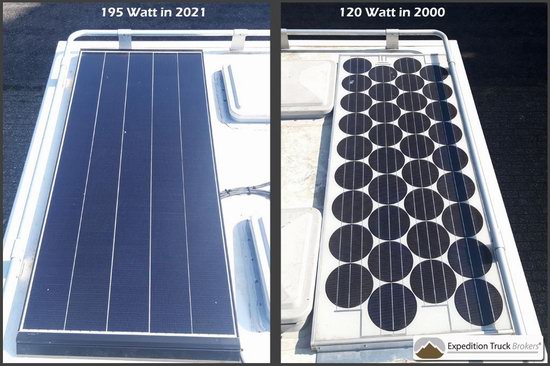 The roof surface of a Expedition / Overland Camper of 2 x 2 meter can easily fit 3 panels of 195 Watt, creating a whopping 585 Watt solar panel grid. On sunny / blue sky days this creates an approximate maximum charge of around 25 Amps at 12 – 14 volts Volts. On a cloudy day the same surface still generates 3 – 6 Amps per hour easily. (with MPPT charger technology) The latter is still enough to power a compressor fridge with the popular Danfoss BDF35 compressor during day time.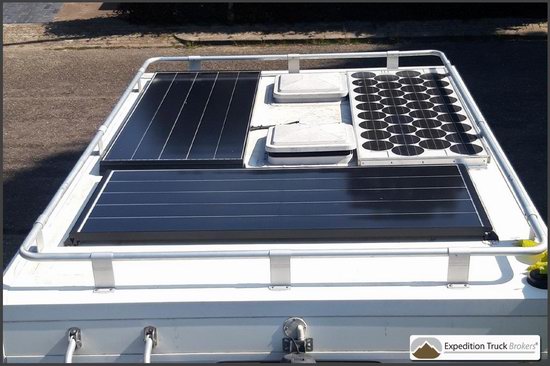 Now more efficient energy storage is the next big innovation.

Lithium Batteries

Modern Lithium Ion Batteries now also come with Battery Management System (BMS) enclosed with a much smaller form factor compared to a standard 220 Ah AGM / GELL battery cell. (522 x 238 x 240 mm)
For example, a high quality 210 Ah LiFePo4 battery from Super-B, Model Nomia comes with an approximate similar volume size (417 x 227 x 314 mm) though has an effective double capacity. Afterall the battery can be discharged to approximately 10% of its capacity rating,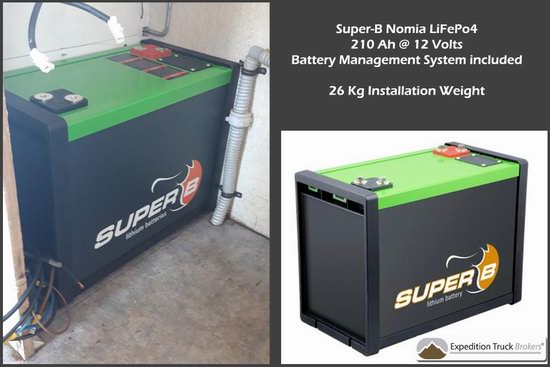 The Super-B Nomia battery is shorter, less wide though a bit higher (+7 cm) compared to an AGM cell. When replacing an AGM battery with a Super-B Nomia battery the extra height is usually there.

In terms of weight, a 210+ Ah AGM / GELL battery weights around 57 Kg minimum, the Super-B Nomia battery weighs just 23 Kg. That's a 60 % weight saving – in absolute terms its just 34 Kg though for a micro Expedition / Overland camper it can mean 34 Kg more weight space or for other stuff such as water, fuel or an extra tire.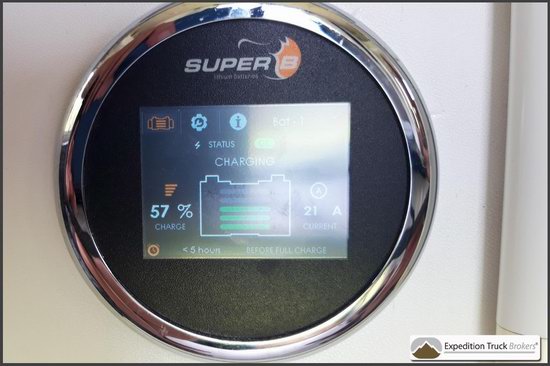 Also, the enclosed BMS is a big step forward, reducing the need for equalisation, configuration of separate Lithium cells during installation requiring extra time & effort to get this done. Also there's no extra gear outside the battery.

Additionally, the LiFePo4 battery has an internal resistance that's very close to zero increasing the charge efficiency of the energy coming from solar panels or alternator.
With these 2 improvements another 3rd innovation is possible, that is the boost charger.

Boost chargers & Increased Alternator capacity

When the available solar energy is not sufficient due to bad weather driving / starting the engine becomes the last resort to charge the LiFePo4 battery.
A conventional engine alternator – battery charge setup- connects the alternator output directly to the battery similar as it is for the engine starter battery. The (internal) voltage regulator of the alternator keeps the supplied voltage at 12+ volts at low / idle engine RPMs.

Connecting a LiFePo4 battery to the same engine alternator can potentially create huge currents soaking up almost all the capacity from the alternator, possibly causing an overload or no remaining charge for other functions like head lights, windscreen whippers or charging the starter battery.

A boost charger is needed to maximize (or limit) the LiFePo4 battery charge when the alternator can deliver the Amps at higher engine RPM.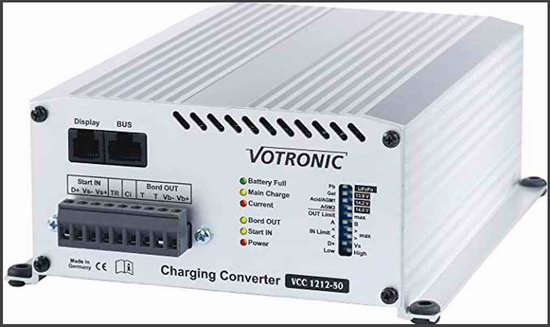 With a LiFePo4 battery, a capacity increase of the alternator is a good investment as the higher charge capacity can be utilized at Idle / Low engine RPMs. Also wiring & fuses need to be upgraded specially when coming from a conventional AGM / GELL battery charge setup. Afterall charge currents at Idle RPM can easily surpass 30 Amps or even higher. An average engine alternator on a 4x4 under 3.5 Tons delivers (just) 55 Amps. An upgrade to for instance 90 Amps can reserve 40+ Amps for LiFePo4 battery charging.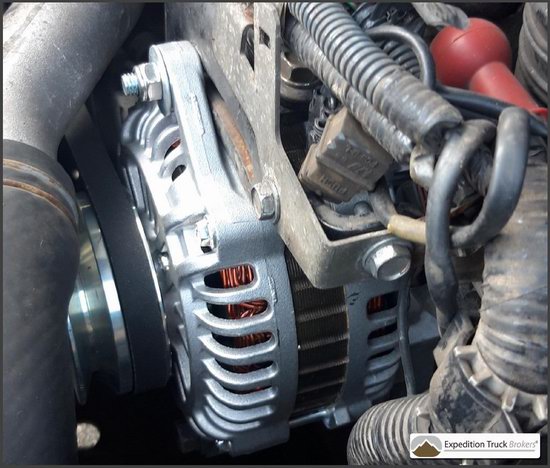 In the new setup with boost charger & higher capacity alternator, starting the engine approximates the use of a separate generator. This with additional benefit that engine heat can also be utilized to warm the boiler (when installed) or heat the Living Unit. Altogether also avoiding having to drive and leave camp just to top up the battery when there's insufficient sunshine.

Innovative performance

For the micro Expedition / Overland camper under 4.000 Kg the Solar Panels, Lithium Battery and Boost charger is a huge leap forward in terms of electric autonomy compared to 10-20 years ago.

Although the total (component) investment is significant (above 4.000 EURO netto in 2021) it provides more than enough electricity for those with Smartphones, Tablets, Laptops, Camera's and other electric gear.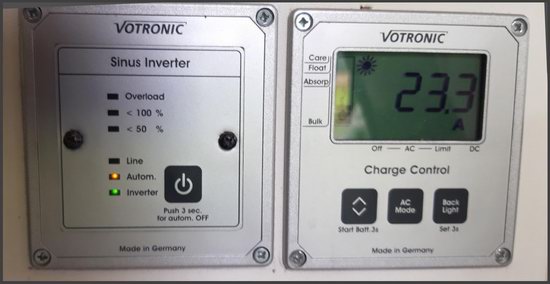 The chance the compressor fridge shuts down is minimal keeping the food supply cold much longer. This provided there's some daily sunshine with engine charging as backup either idle or driving.
Looking ahead there's more coming in terms of more compact Lithium batteries with higher energy density, increased solar panel performance. Possibly the biggest leap forward is already behind us, though for the micro Expedition / Overland camper every Wh more, every Kg less and more space saved has significant effects. Very likely prices will come down in the years to come.
Contact us for more information about Super-B LiFePo4 batteries, Boost Chargers and Alternator upgrades, such as;
Relevant Design & Installation aspects
Installation workshop for Autonomy upgrade
Detailed Performance information (Laptops, Smartphones, Tablets)
Examples of micro Overland & Expedition Trucks;
Mercedes Sprinter 319 4x4 Overland Truck
Iveco Daily SCV 4x4 Expedition Truck
Read more articles