Every overlander trotting the globe is quite familiar with the sudden reality of a truck tire puncture. Most come prepared and know the drill inside out. For those new to the Expedition or Overland travel scene, this article has a few insights & pointers for repairing heavy truck tire punctures. You may want to read this article, especially the aftermath at the end of this email.
The unavoidable truck tire puncture
Those lucky enough who discover a truck tire puncture early sufficient with either a sudden unexplainable "hiss" or wobbly driving behavior have at least the option to try and repair it.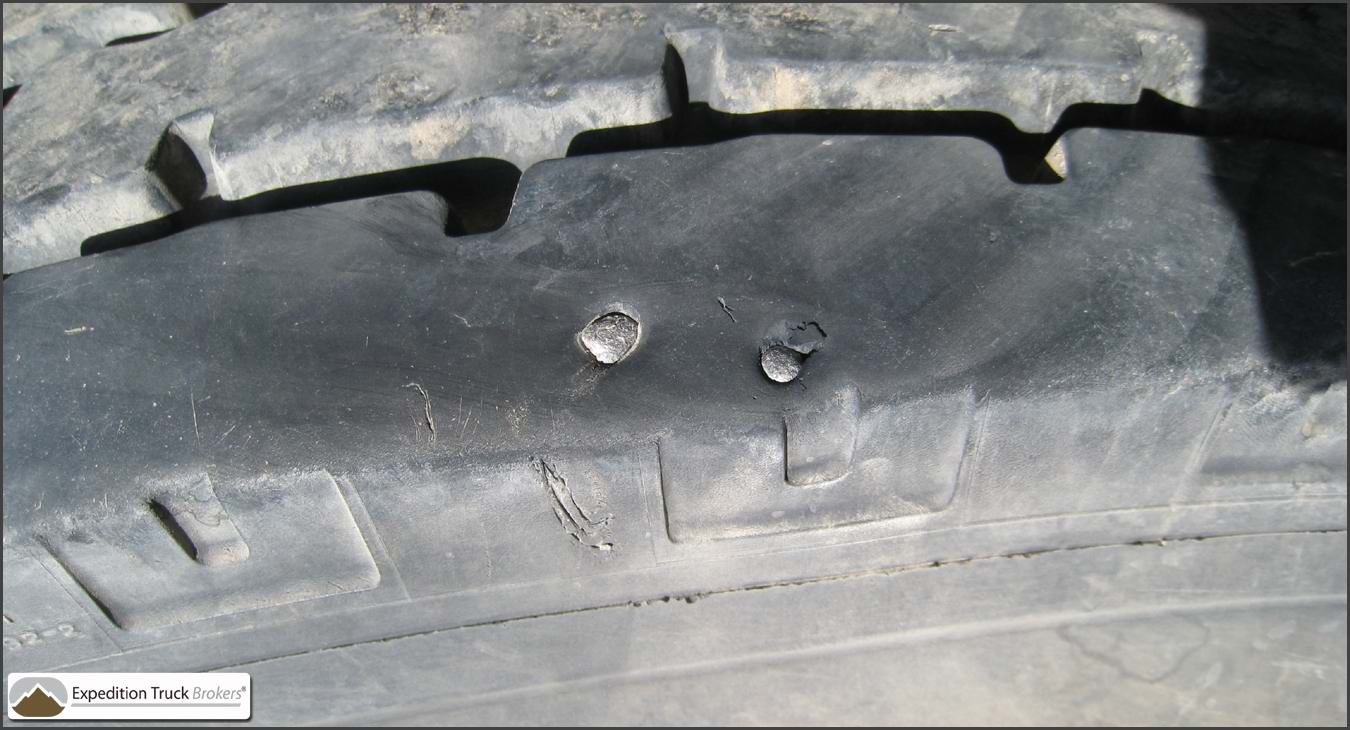 The picture shows a nail puncture in a Michelin XZY-2 heavy truck tire, probably accumulated while driving in urban areas. It's a slow puncture allowing the truck to move to a safe spot to either change the tire or repair it on the spot. The hiss for this puncture was quite subtle and easily missed.
This kind of "nail" puncture is quite common, though this one is extraordinary. It's a double one with two thick steely-like rods. Also, the puncture shows like it's been there for quite a while. The top of the steel rods is also quite worn.
This puncture was a fortunate discovery; it could have ended much worse. (read-on why) 

Tire plug repair
This type of tire puncture can be repaired with a tire puncture plug set.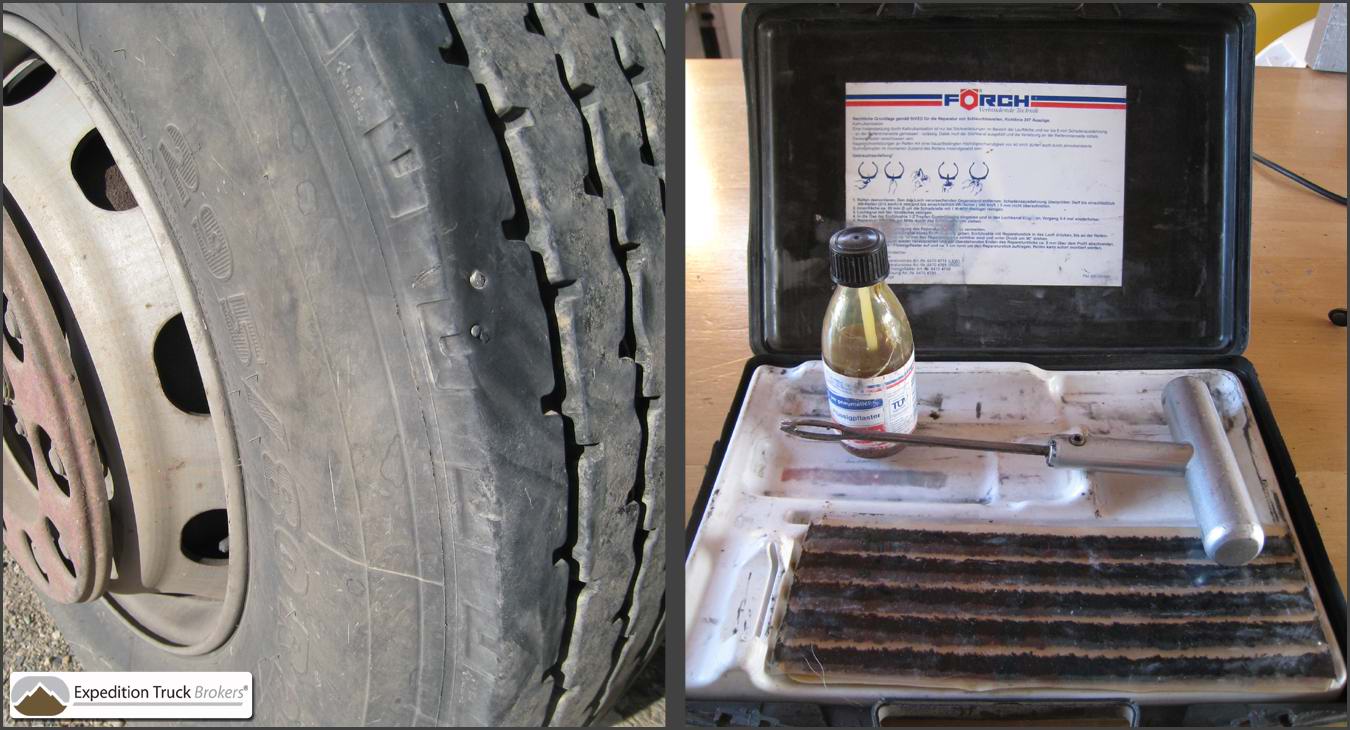 Truck Tire puncture removal
Relatively large punctures like this are a lot of work; the steely rod is not easily removed with the thick truck tire still on the rim. Changing the wheel or tire versus plugging the leak for a - minor puncture - is almost the same amount of work. That is, provided there is a safe space for a roadside repair. Otherwise, it's better to tow the truck away or limp to a safer area with the (hissing) flat tire.
It's quite a long rod.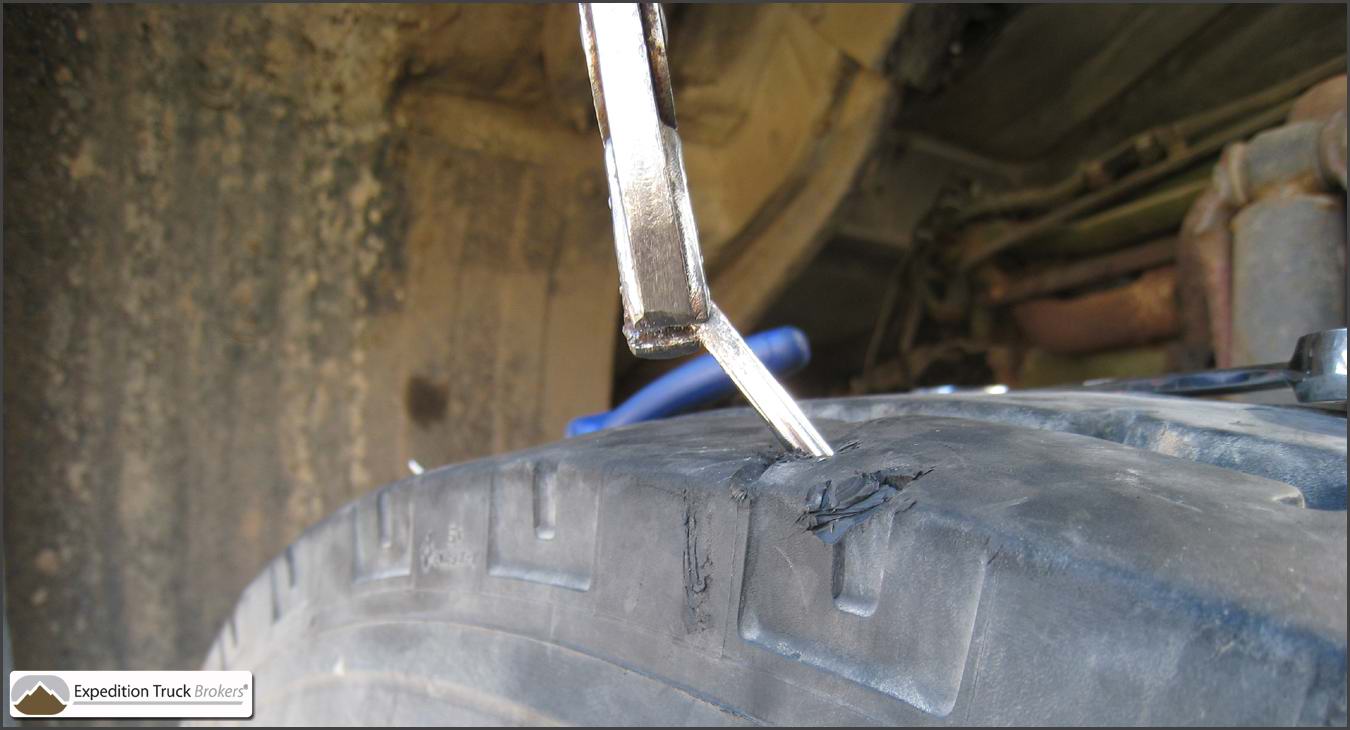 There it is;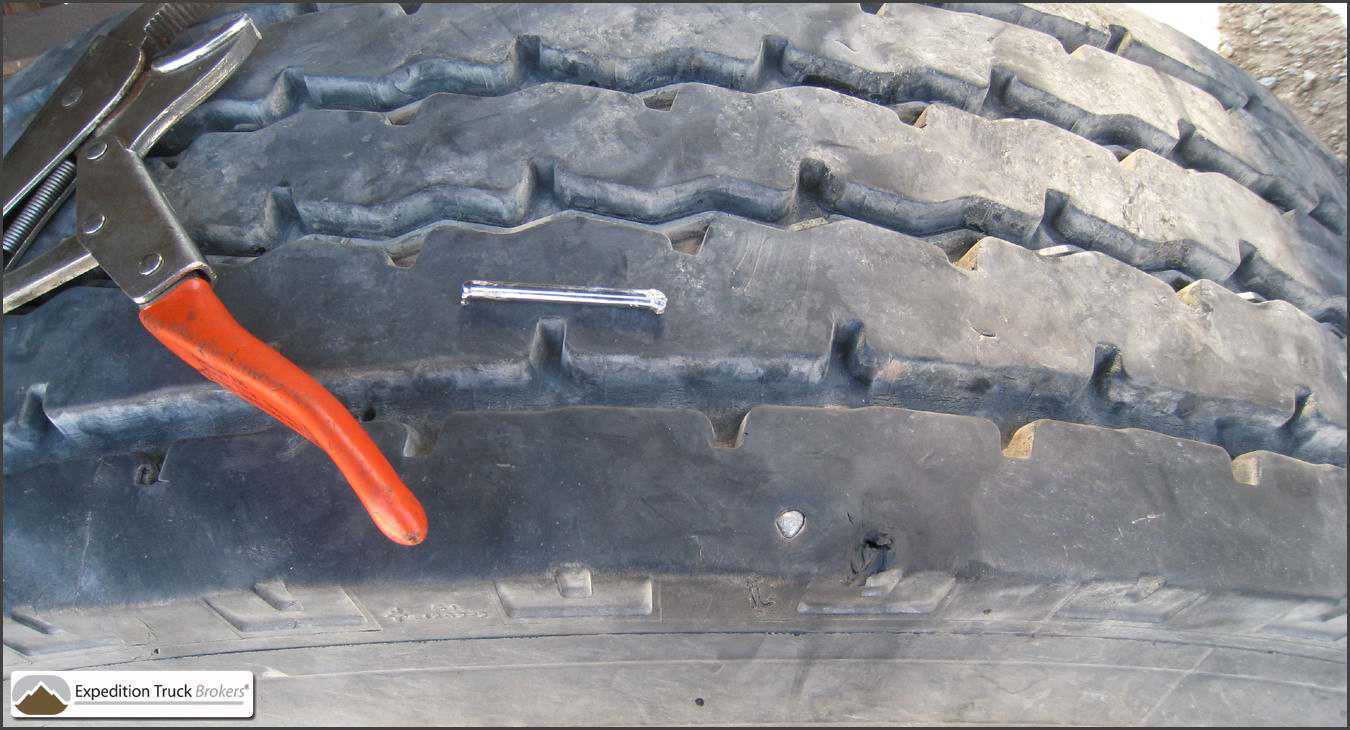 Plugging the truck tire puncture
The puncture holes can now be plugged with the tire free of the culprits.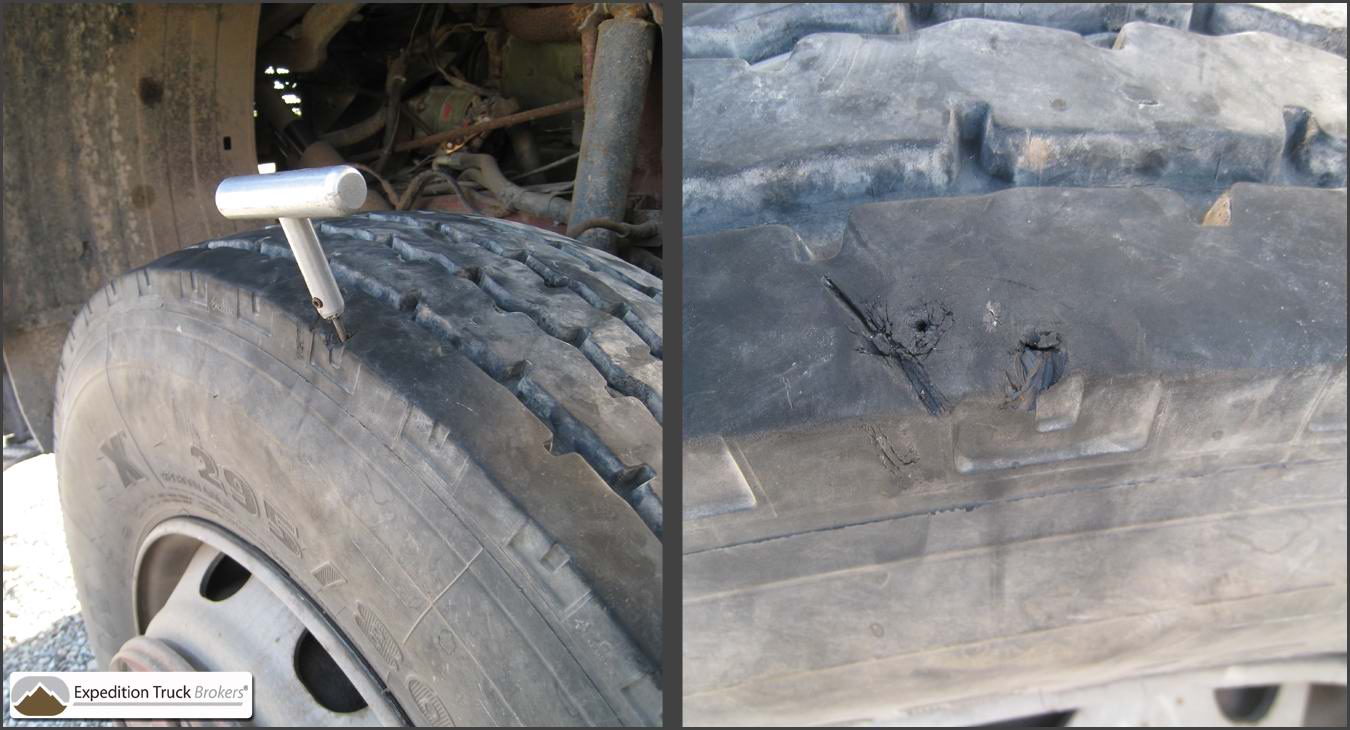 Then the truck tire plug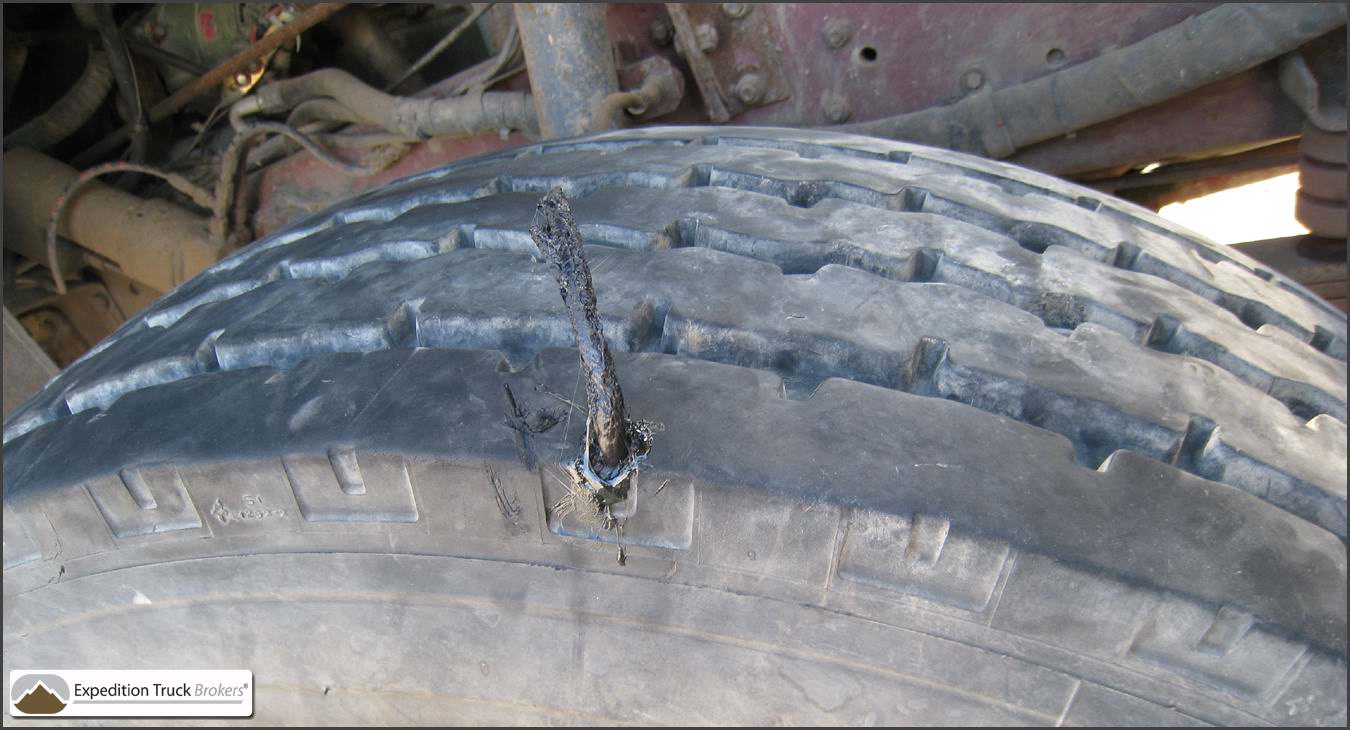 Yes, the plug is inserted double-folded; the other end was already cut off with scissors. 
And after the tire plug was set and cut (roadside repair).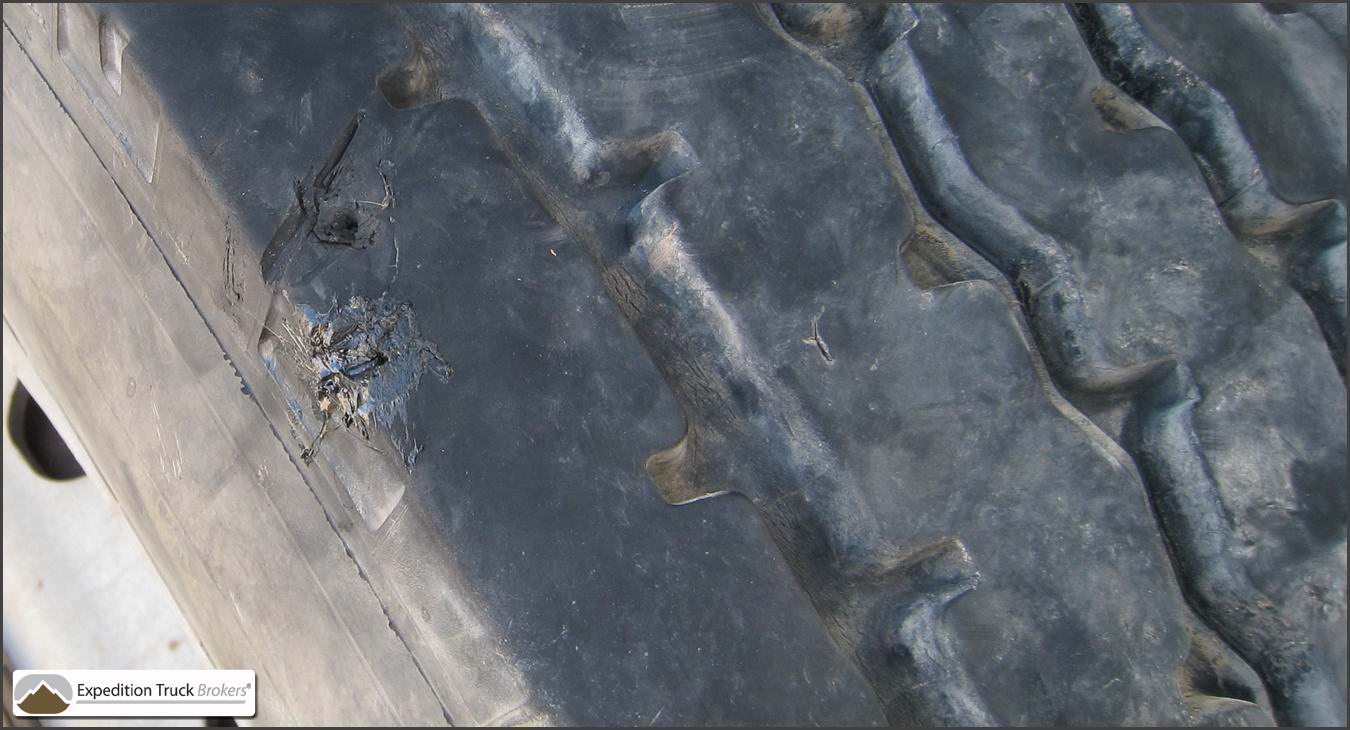 These tire plugs are usually enough to drive on and change or repair the tire later.
Great care should be taken when inflating the truck tire. Always keep a safe distance using a long tire inflation lead.
Tire inflation is best done in stages, checking the puncture repair at each new pressure.
An average heavy truck tire has a pressure of around 4 to 6 bar (87 PSI), way more than an average small truck tire. (2.5 Bar / 36 PSI)
The truck tire puncture aftermath
This particular puncture could have ended much worse – it's a tire blow-out in the making.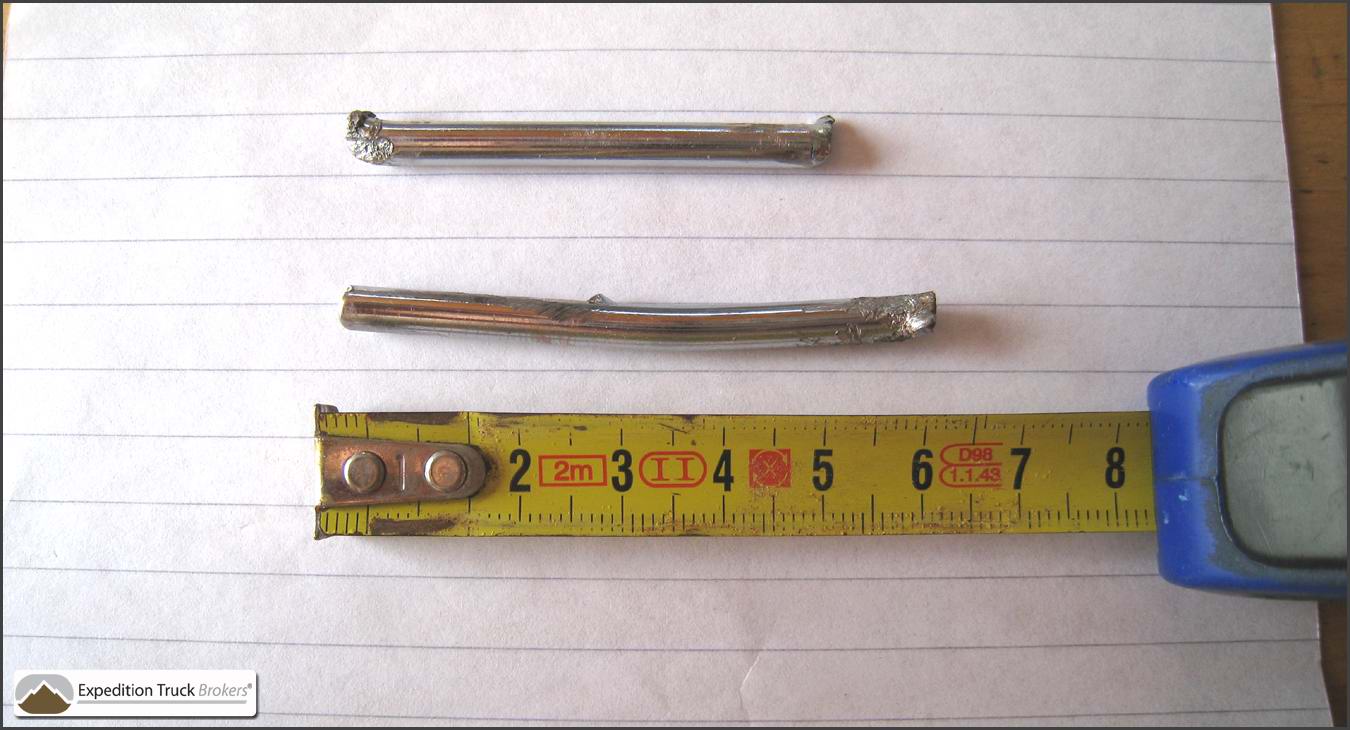 Plugged heavy truck tires are almost always unsuitable for continued long-term use. If the puncture was on the steering axle tire, the tire is done on the front axle, whatever the repair.
The main factors that make a repaired (heavy) truck tire puncture unsafe;

•     Higher (Highway) speeds at 80+ Kmh / 50+ Mph.
•     Heavy loads or heavy braking. (the front tire)
•     High (road) temperatures
These factors combined are the ideal conditions for a tire blow-out with a repaired truck tire, especially on rural roads where one can drive at higher speeds. On highways, at least the oncoming traffic is (often) on a separate lane.
A high(er) speed truck tire blow-out on the front axle is extremely dangerous. This always never ends well.
Heavy Off-road Truck Tire Speed Ratings
Most heavy Off-road Truck tires (Michelin XZL) have a - Maximum Speed Rating - of around 90 Kmh / 55 Mph. (Speed Class G) The XZL tire fits on a 20-inch rim, preferably a split rim, for easier tire changes in the field.
The Michelin XZY-2 mixed road tire has a K speed rating, meaning a maximum of 110 Kmh /  68 Kmh—the XZY-2 fit on a 22.5 Inch rim. The Michelin XZY-2 heavy truck tire is a mixed road tire suitable for on and off-road use.
Check your heavy truck tires regularly, best each morning before departing for a new adventurous day or at least when leaving an offroad section to proceed on smooth asphalt.
Truck Orientation Service - Start better prepared
Want to start your future overland journey better prepared? Consider our Truck Orientation Service.
This service is packed with many heavy truck-related topics useful for those starting their overland journey.
More about heavy truck tires & rim sizes here.
Read more articles