Take-away's from this article;

•    Early interior compromises can positively impact your future world journey significantly.

•    Early on-road experiences can open or close the gate to a future world journey.
Why a Living Unit length up to around 5 meters can benefit your first journey experiences
A story from our daily practice. Family crews may want to read this.
A world journey in the making
The idea of traveling with a large Overland or Expedition Truck often evolves over many months or years. The concept can stem from owning a (much) smaller conventional motorhome with a tiny living space. This with limited autonomy and capabilities to travel or stay in remote regions and colder climates. Others 
One slowly grows into the possibilities a large(r) truck can offer. The newfound interior space often drives discussions about the future interior layout. However, unexpected real-life consequences of interior choices and preferences can emerge once the truck is finally there.
This with a significant impact on the long-anticipated world journey.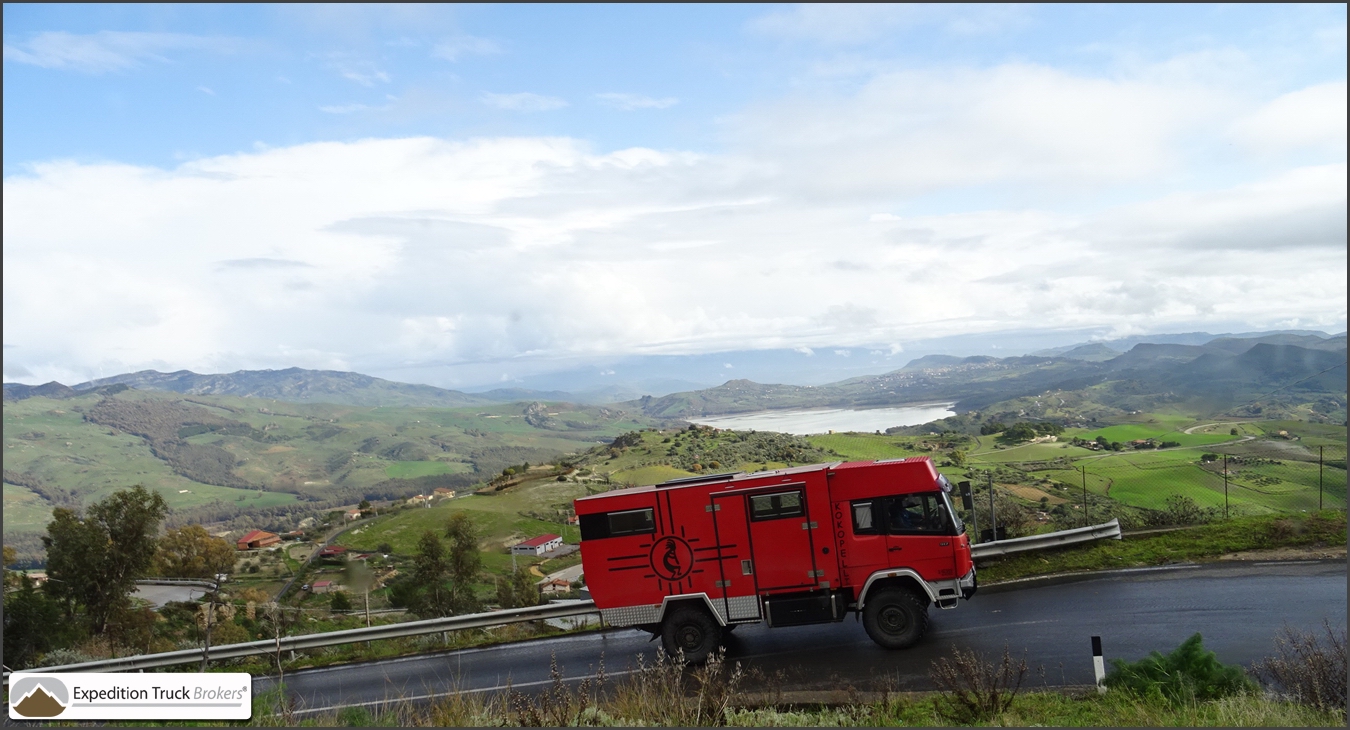 Your future truck apartment
The size of the living unit often evolves from a (crew) vision of how the interior layout should fit a particular lifestyle and/or personal preferences. Often-heard examples are a separate shower cell, a kitchen with a normal-sized countertop, an internal Motorcycle or QUAD garage, or the much beloved fixed children's bunk beds for a family crew. 
The ultimate interior layout drives the living unit length. The truck quickly gets longer and heavier, especially when the Living Unit length approaches 6 meters. From this length, the 4x4 truck chassis needs to be swapped for a 6x6 to retain minimum off-road capabilities.
What first was an 8-meter 4x4 has now evolved into a 10-meter 6x6 truck.
The real-life consequences come much later - especially for those entering this Expedition & Overland scene for the first time.
The misconception – We don't go there.
For most starting truck drivers, the experience of handling a large truck in a variation of road & weather conditions comes slowly. The entire crew goes through a significant amount of driving hours in the most common situations to gain a comfortable feel about the capabilities of their new truck apartment.
However, the journey experience can suffer significantly when the crew finds themselves way too often with sheet-white faces and hands clutched to their seats. Even without a single mile driven in off-road terrain!
In our daily praxis, we regularly hear the following: "We don't plan to venture into extreme off-road conditions; we're careful with and avoid this when we can." However, the reality of driving a large truck can be quite different – and often has nothing to do with off-road driving. The crew grows into the journey, slowly accumulating the driving and navigation skills to maneuver a large-sized truck on Asphalt. 
The reality of earlier interior choices often presents itself unexpectedly.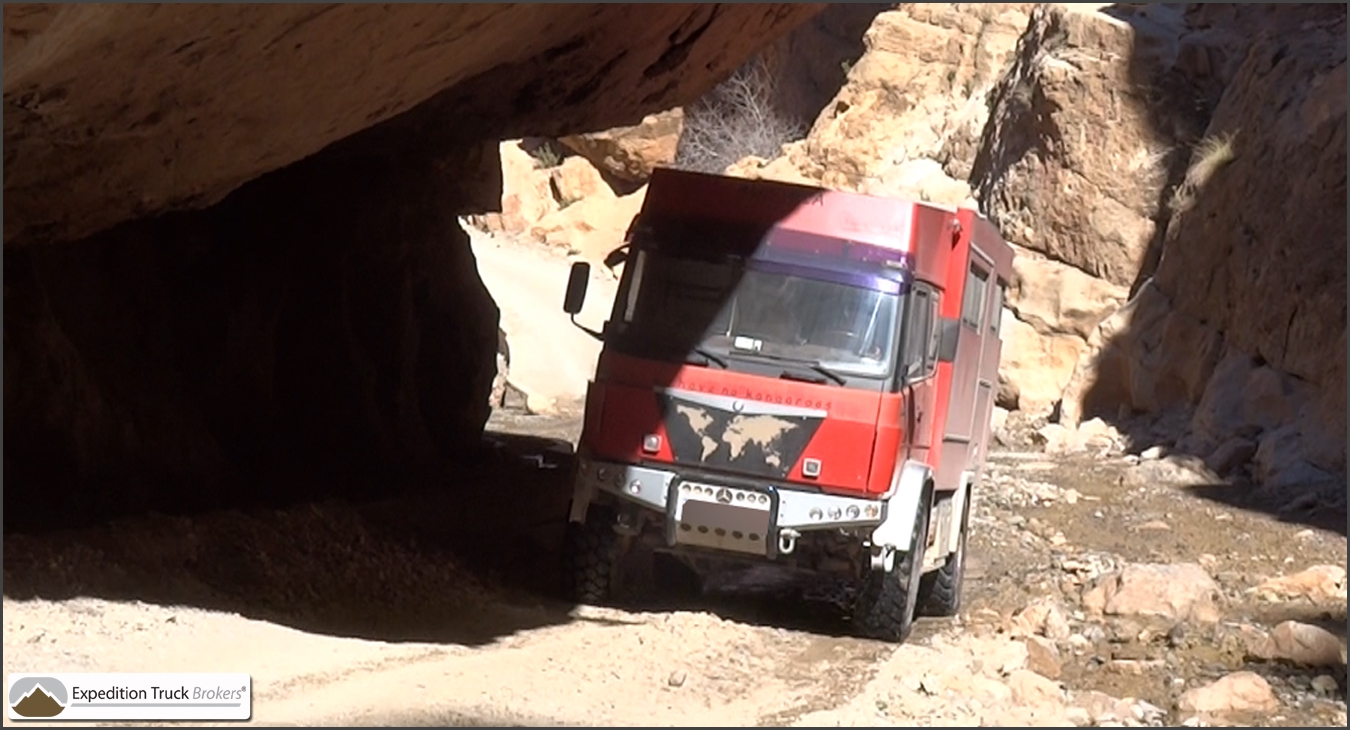 Scenic Roads & Night-time parking
In the early stages of the journey, the whole crew goes through a ''learning by doing" experience. Driver, co-driver, and (part-time) passengers slowly grow a sense of the capabilities and limitations of the newly acquired truck. With this, the collective comfort level also (slowly) increases as the journey proceeds.
Once the comfortably wide highways & parkings are behind you, single-lane provincial roads present themselves, followed by narrow rural streets connecting small villages. Scenic hilly terrain crosses over into mountains with steep and narrow streets. These are popular places to see & experience for many. For the fresh crew, it's often the go-to area to seek a quiet and scenic spot to park and spend the night. 
This is a very familiar activity for experienced truck travelers. They've grown a "nose" for nice, scenic, quiet spots. Throughout their years on the road, they know well how to deal with the (off)road conditions & hairy circumstances. Their maneuvering skills enable the crew to handle the truck in often very tight places. This on roads without any signposting for height, width, or weight restrictions. 
For those just starting their truck journey, a similar scenario can quickly grow way above their heads. The experience & skill level gap is (obviously) very large compared to experienced truck travelers. But one has to start somewhere, right? 
As starting truck travelers, it's possible, to some extent, to avoid small, narrow, and challenging places and situations – though it is impossible to avoid these altogether. You'll end up in these situations unexpectedly, 100% guaranteed. 
And here it's where the going can get (very) tough already relatively early in the journey. This without - any miles - in off-road terrain. The earlier mentioned "we don't go there" attitude can be a dangerous misconception. The challenges of maneuvering a large truck in small places can be considerable. Conditions that even may be challenging for local truck drivers with years of local driving experience on Asphalt.
The decisions made years earlier for the ideal interior layout come back at the crew in full force. The length and weight of the new truck may already be way too large for the crew's entry-level driving and navigation skills.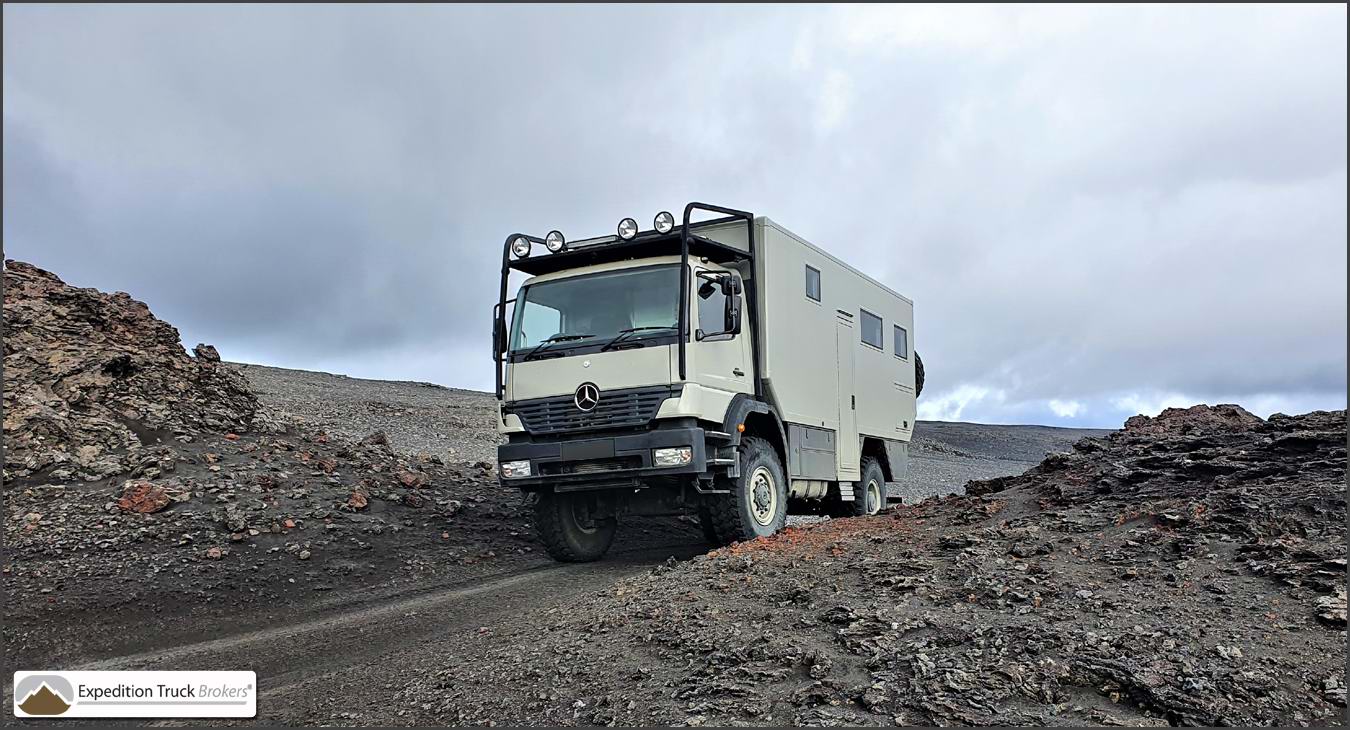 The breaking point – Another (very) close call
Hairy situations in unexpectedly tight places with a (very) large truck can quickly grow into anxiety and fear. Maybe this is not so much the case for the driver, but much more likely with the co-driver and other passengers. Again, another  "Oh shit!" moment or close call can escalate into sleepless nights and a growing reluctance to get back on the road. 
Often, the co-driver or the passengers bring about the (highly) uncomfortable topic of journey/destination change or even cancelation. The journey for them may not be so much fun anymore. The accumulation of a string of (very) scary episodes may already have evaporated misplaced – holiday expectations - with a large truck.
All this can quickly occur on asphalt roads in rural areas or small villages in Greece, Italy, Spain, or Portugal - without a single mile driven off-road.
Why do we talk about it? Because over the years, we've seen trucks come for sale with this particular background. This after years of preparation and significant investments by the owner.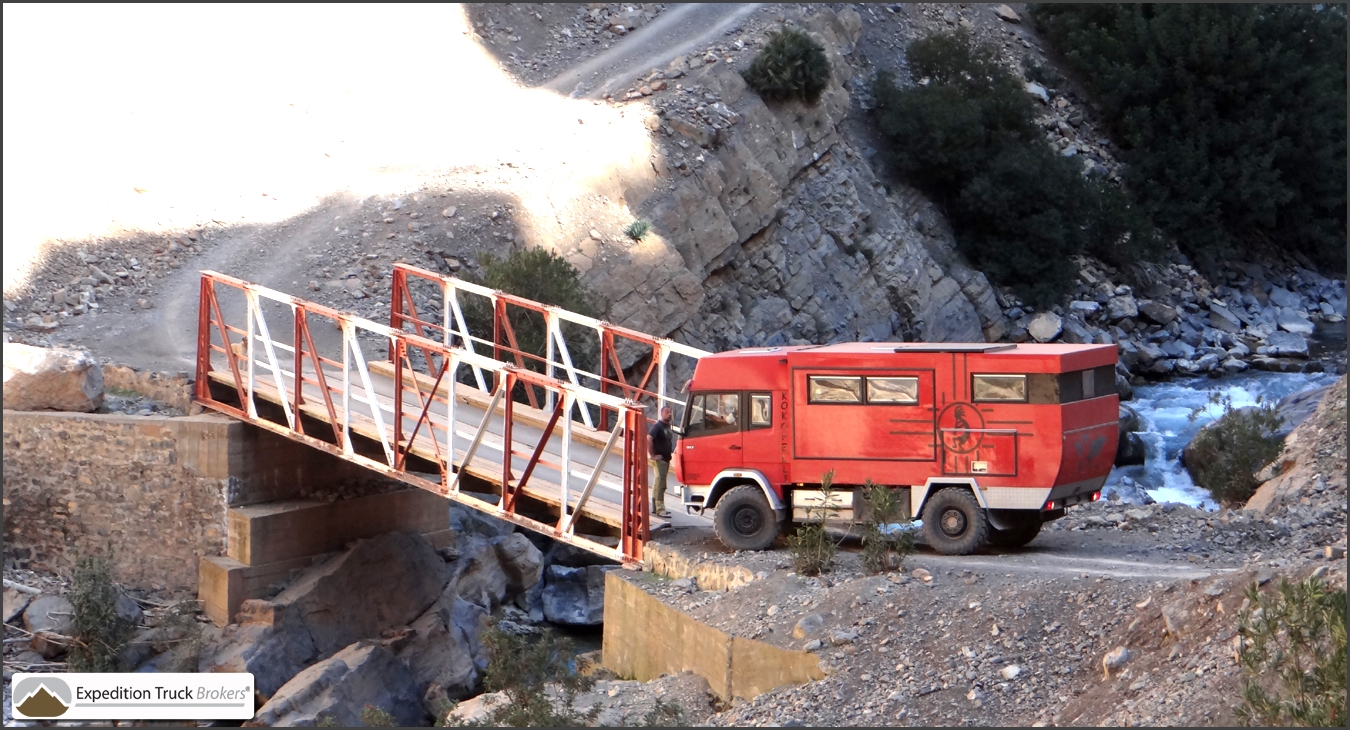 The unforgiving truck 
As with motorcycles, one has to grow a skill and experience base to handle the bigger, more powerful bikes. Buying a Suzuki Hayabusa as a starting motorcyclist is a recipe for disaster. Even experienced bikers may sense that a Hayabusa is (still) way out of their league. 
With a large Expedition or Overland truck, the driver is never alone. The co-driver and passenger crew experience the struggles of the fresh entry-level driver from up close. Their comfort level is directly intertwined with how well the driver handles sudden hairy situations. This regardless of decades of passenger car driving experience. Same as it is for riding a Suzuki Hayabusa for the first time without prior motorcycle riding experience.
The larger the truck, the more unforgiving it will be for the driver and crew in 100% guaranteed hairy & tight situations. Driving a large truck - first time right - is simply mission impossible. As a starting truck driver, one needs a considerable margin for error to learn the ropes in small & tight places. This without a single mile driven off-road.
Recognizing yourself and your co-driver as entry-level truck drivers may have significant benefits. This can already start with compromises on the Living Unit interior and, with this reducing the total vehicle length and weight.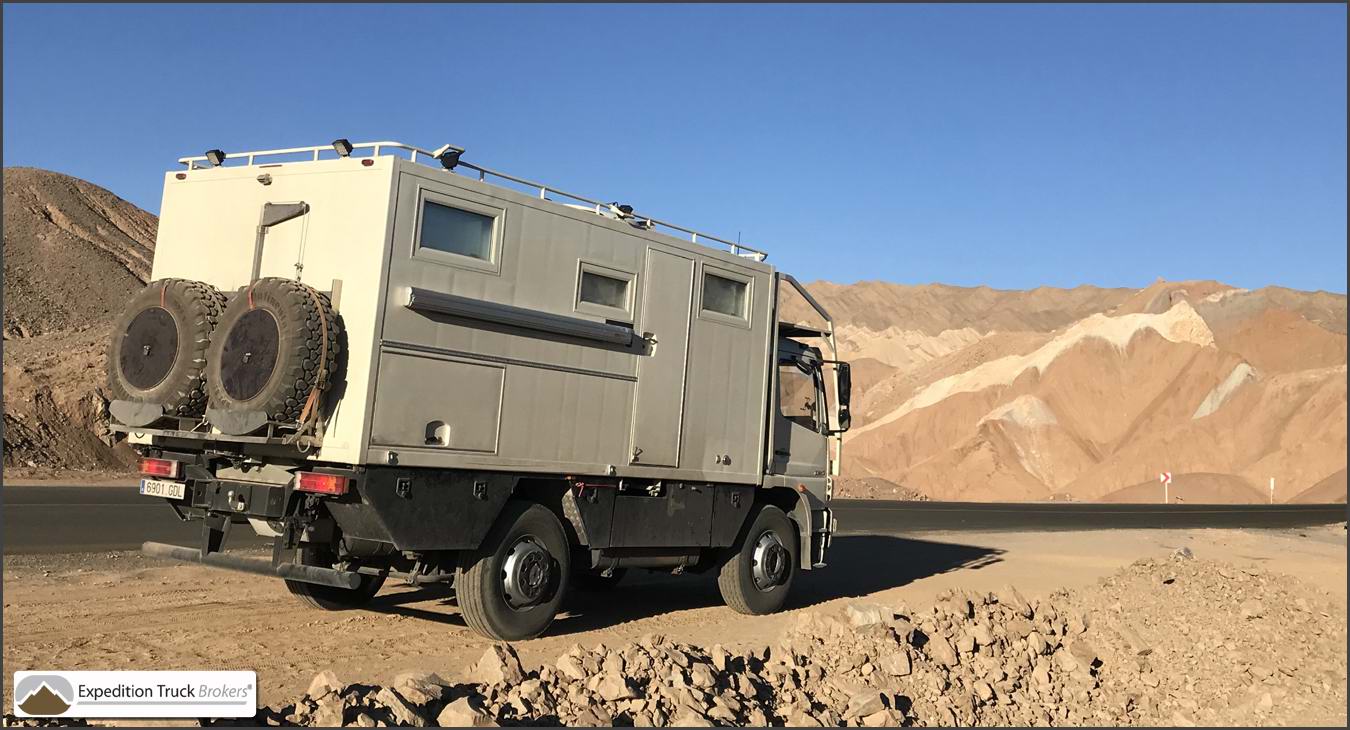 Adventurous roads
The benefits of compromises on the ideal interior layout result in a much more agile and forgiving truck. 
Less length and weight allow a starting crew to learn much faster from inevitable driving and navigation mistakes during the journey. The first experiences may still be outside the comfort zone. However, the consequences of a driving or navigation mistake are much easier to correct with a more agile truck.
The overall journey experience can be much more (driving) fun and significantly accelerates the crew's skill level. It opens up the possibility for more adventurous roads and, with this, arriving at these scenic spots for night-time parking. These are memorable days in a positive way that last a lifetime. 
With an agile truck, off-roading becomes way more accessible to entry-level drivers & crew. This is because the crew's on-road comfort level grows much quicker with a more agile truck.
And in the end, the earlier interior compromises may not have the (perceived) impact on living comforts. The crew's journey experience may very likely overshadow the interior compromises by far. And with this staying clear of a (totally) unexpected journey, route or destination change, or worse, cancelation.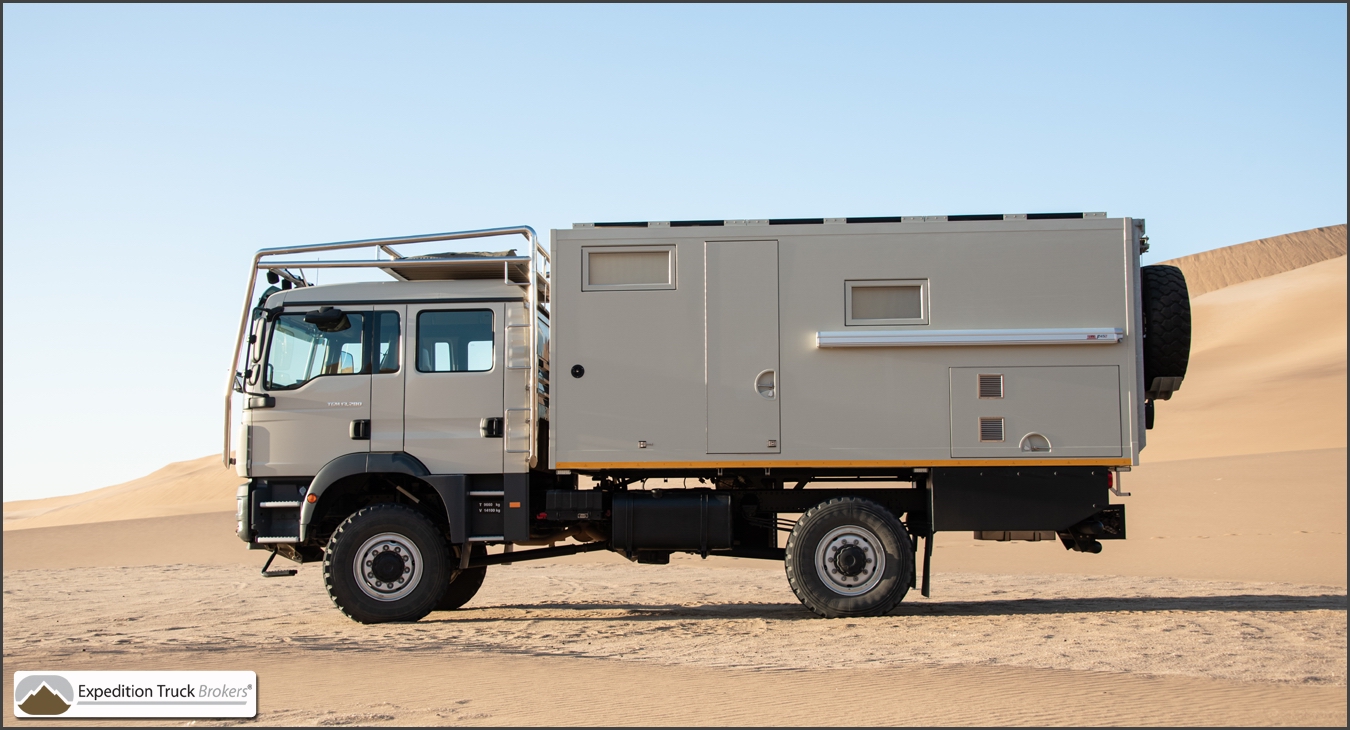 Interior layout compromises
Access to more scenic routes and adventurous experiences can start with compromises on the interior layout.
Keeping the living unit length around 5 meters maximum for your first Overland or Expedition Truck results in a much more agile truck.
A few examples of interior compromises;
A smaller bathroom comprising a separate shower cell.
. 
Kids sleep in the 2-person fixed bed instead of the parents. 
 
Kids sleep in the driver's cab instead of in the living unit.
 
Bicycles / E-bikes on the rear platform instead of a much heavier motorbike
Examples of agile overland & expedition trucks;
2+ person trucks with Living Unit Length [Meters]
4+ person trucks
These trucks are relatively easy to drive and do not immediately require advanced truck driving and navigation skills in small places or narrow roads.
Crew Preparation
We assist you in how to prepare for a future word journey
Looking for in-depth truck information? Have a look at the following;
Are you considering having your truck built or starting your own project?
Other questions? Have a look at the FAQ / Q&A Section in
Other questions? Just write us here.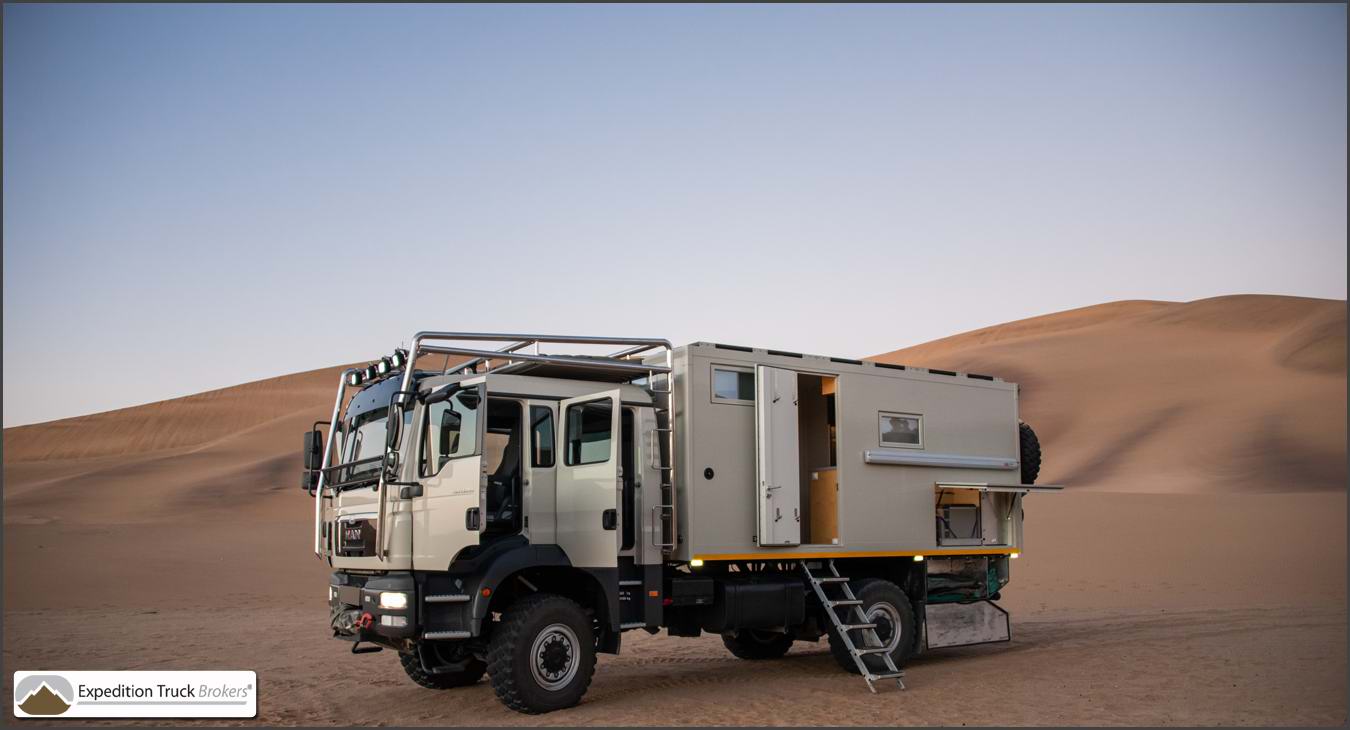 Read more articles